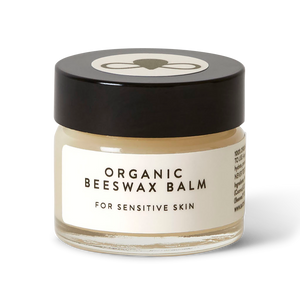 SENSITIVE SKIN BEESWAX BALM
Regular price £15.00 Sale
This gentle 100% organic multipurpose balm, is specifically formulated for super sensitive skin, without any essential oils. It provides a megadose of moisture to combat super dry skin, including eczema, dermatitis and psoriasis.  Completely safe for pregnant women, children and babies, and in a handy 15ml glass jar, to take with you on the go. 

Organic Apricot Kernel Oil,  Raw Coconut Oil, Unrefined Shea Butter, and ethically sourced organic Beeswax, work hard to inject and lock in moisture, soothe, hydrate, protect and rejuvenate. Use for the face, body, lips, nails, feet, knees and elbows – wherever you need healing relief.

*To create a bespoke Parcel you must add a gift box to your basket plus 4 - 7 individual gifts.