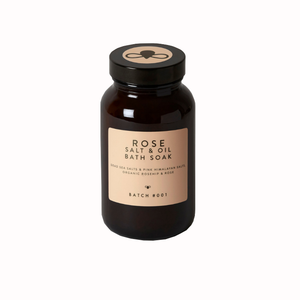 ROSE SALT & OIL BATH SOAK
Regular price £22.00 Sale
Rose Salt & Oil Bath Soak – Your favourite and award-winning Salt & Oil Bath Soak is now enriched with the "Queen of Oils", Rosa Damascena – highly sought after, and one of the most precious and expensive essential oils produced – and Organic Rosehip, for a truly sensual bath time treat.
This luxurious Rose Salt & Oil Bath Soak combines the purest therapeutic Dead Sea Salts and Pink Himalayan Salts,  containing 84 different minerals, including Magnesium, to cleanse, soften and detoxify, whilst Organic Rosehip and Apricot Kernel Oil nourish dry skin, eczema and psoriasis.
 *To create a bespoke Parcel you must add a gift box to your basket plus 4 - 7 individual gifts.