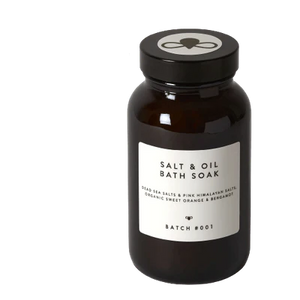 ORANGE & BERGAMOT BATH SALTS
Regular price £22.00 Sale
The natural salts cleanse, soften and detoxify, leaving the skin silky smooth, and are helpful for those suffering with dry skin, eczema and psoriasis.  The Organic Sweet Orange and Bergamot essential oils – anti-inflammatory, naturally uplifting and with supercharged aromatherapy benefits – are combined with Apricot Kernel oil – rich in vitamins which protect against free radicals, promote cell regeneration, and boost collagen and skin elasticity, to induce deep relaxation, leaving the skin silky smooth.

Simply add a generous handful to a warm bath and enjoy!
*To create a bespoke Parcel you must add a gift box to your basket plus 4 - 7 individual gifts.